Reboot AT A BEACHSIDE RETREAT
Recharge with Vita Vie Retreat, a fitness retreat to balance body and mind in Delray Beach, FL. Shape up and jumpstart your healthy habits with beachside workouts, an array of fitness & wellness classes and healthy fare all set in a boutique, luxury resort. Reboot from head to toe with an active getaway set in a beautiful seaside town.
- JULY 4TH RETREAT SPECIAL -
Celebrate July 4th with us and SAVE $450 off on 5, 6 or 7 Night retreat packages
Enjoy an active vacation plus fireworks at the beach!
Learn More: July 4th Special
OUR Fitness RETREATS
Get out of the gym and into the outdoors with us! Unplug and detach from the stress of the everyday grind with an energizing fitness vacation. We use outdoor areas such as the beach and local parks for workouts along with a poolside area and private indoor studio. Spend time focusing on you and leave feeling refreshed and renewed!
"A high intensity, get your butt in shape fitness retreat." – Oxygen Magazine
Kickstart your fitness and weight loss goals with a boot camp vacation. Experience a blend of classes from challenging beach workouts to balance and core training as well as mind body wellness to complete your experience. Exclusively limited to 10 people each week. (Formerly Bella Boot Camp)
Your Retreat. Your Goals. Your Experience.
A personalized fitness and weight loss retreat, our private retreats are designed specifically for you. Work one on one with our trainers to focus on your goals. Jumpstart weight loss, reduce stress, improve your fitness level or focus on sport specific training.

WHAT OUR GUESTS ARE SAYING

"What a great way to reset!"
I highly recommend this program to anyone looking to kick their butt into new workout and eating routines. Every detail -- from classes to meals -- is well thought-through, making for an enjoyable fitness experience. Margot and her team of instructors are great. The workouts are tough but fun.
Jenni T.
See More Reviews: Read Google Reviews
"Our heartfelt thanks."
We left with renewed energy and motivation for wellness, better habits, and best of all great memories of our days together. You have built a fantastic program with a perfect balance for the Core-3 of mental, physical, and nutritional education. We look forward to finding time to do a repeat!
Nora + Tiffany
Read More Testimonials: Read Testimonials
GETAWAY TO FITNESS IN DELRAY BEACH, FLORIDA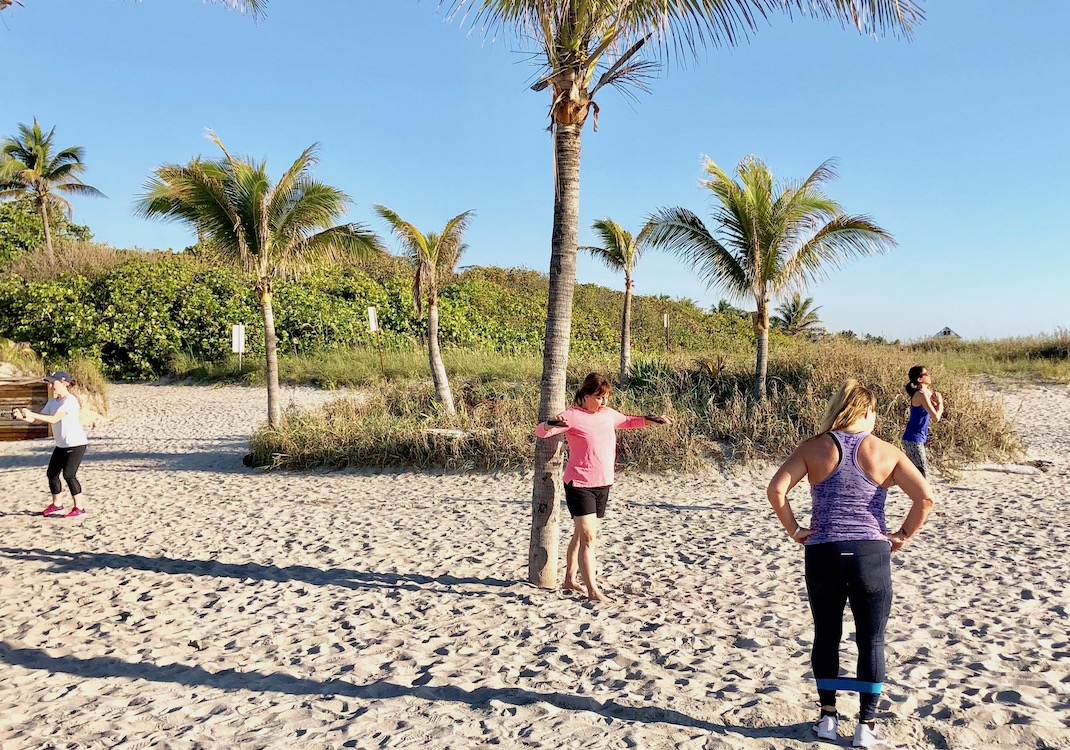 Over the years we have had women, men, friends, couples, groups of ladies, bachelorette parties and small corporate events and more at our fitness retreat.
Our retreats are for anyone looking to shape up, improve energy, get re-motivated, enjoy a fitness vacation or weight loss boot camp at the beach.
Boot Camp Vacation: Vita Boot Camp
Private Retreat: Private Fitness Retreat
We hold our retreats at The Seagate Hotel & Spa in Delray Beach, Florida. Seagate offers a full service spa, full fitness center, private beach club, two pools, country club (golf & tennis) and a yacht club.
We partnered with Seagate to bring you the best of both worlds — a fitness retreat combined with a sophisticated beach inspired luxury resort.
Visit Website: The Seagate Hotel & Spa
A beautiful seaside town, Delray Beach is nestled just south of West Palm Beach and north of Fort Lauderdale on the Atlantic Ocean.
As part of your fitness vacation, you'll get to enjoy shops, art galleries, salons and over 2 miles of beautiful beaches.
Located 20 mins from the Palm Beach Intl Airport and 45 mins from the Fort Lauderdale Intl Airport.

We're proud to say we've been offering fitness retreats since 2006! A boutique retreat organization, Vita Vie Retreat was one of the first in the United States to offer these types of boot camp vacations. We have guided and motivated people of all fitness levels and abilities from all over the world including countries in North America, South America and Europe.
Our approach to health and fitness all about balance. We believe in healthy, sensible habits that work for your lifestyle and are sustainable well beyond the retreat. Whether you come to get re-motivated and refreshed, to improve your fitness level or to jumpstart goals with a weight loss retreat, we've got you covered.
Our goal is to provide outstanding service coupled with a program that is both challenging and safe and an experience that leaves you feeling healthy and inspired!
About Us: About Vita Vie Retreat | Facebook Reviews: See Reviews